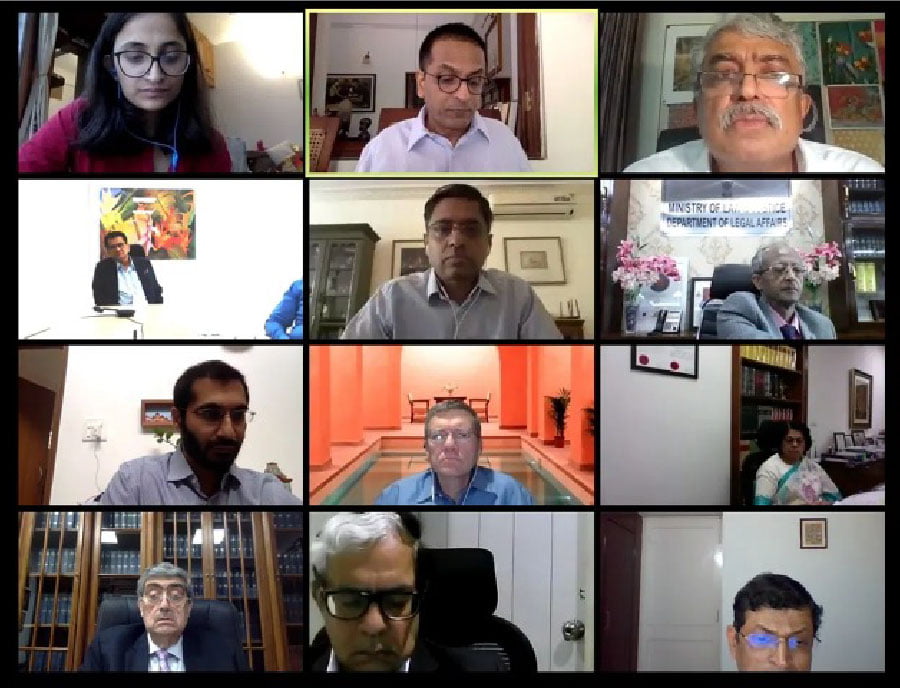 On Saturday, June 6, NITI Aayog, in association with Agami, and investment firm Omidyar Network India, brought together key stakeholders from the higher judiciary, government and industry for a historic first-ever meeting on advancing Online Dispute Resolution (ODR) in India. Senior judges of the Supreme Court, Secretaries from Government ministries, leaders of the industry, and general counsels of large enterprises, explored the opportunities and specifics of what lies ahead. The group discussed the steps that needed to be taken to enable millions of civil disputes to be resolved through ODR so that they expand access to justice, enhance ease of doing business, and do not add further to the burden on the judicial system. Here are my top five takeaways from that critical 6/6 meeting:
#1 Innovation in private dispute resolution is finally a thing
It's an inside joke in innovation that society must first see an area as being capable of innovation. We're used to seeing a thousand wildly different ways to make a payment but did we expect there could as many creative ways to resolve a dispute? With the ways in which technology and data are unlocking the potential of techniques such as negotiation, mediation and arbitration we will now see a burst of innovation addressing the mitigation and early resolution of disputes. Rigid silos of thinking will have to be busted and tools such as design and behaviour change will work side-by-side with tech and the ADR mechanisms. We were at 3 ODR startups in 2018 and in mid-2020 we are at 14. The value of that number lies in the number of critical minds working every hour on solutions.  
#2 Data will be more important than ever and will move between private and public systems 
I am not going to sing songs about data because we all know its value. For any lingering doubts please see the recent Reliance JIO stake sales! Other than reaffirming the fact that data about disputes and their resolutions will vastly improve the processes of not just resolution but also avoidance and containment (after 10,000 commercial property rentals the system will know how to better deal with #10,001), the 6/6 meeting touched on the possibility that there will be an exchange between data collected inside private systems (businesses, civil society organizations and ODR platforms) and public ones (Courts, Lok Adalats etc.) This will result in not just better processes but better laws!
#3 We need standards but not over-regulation
In a free market, genuine demand usually meets quality supply while regulation can sometimes reflect the interests of entrenched stakeholders as much as it claims to address the needs of users of critical systems. Areas such as neutrality, data security, privacy, confidential and quality (of the dispute resolution professionals and of the technology) must be addressed, and soon, but there needs to be care to not 'game' the space. There has been some talk of only lawyers being allowed to be mediators which is ludicrous given that mediation is a professional skillset, not innate to lawyering, which sometimes goes better with domain expertise rather than court expertise i.e. a retired bank manager may be able to better mediate a bank dispute than a lawyer. This is not to say that many many lawyers can't mediate effectively. The short point is that we need industry standards as much as we do regulation. The incorporation of ICODR in India, as well as an ongoing effort by some leading startups to create their own standards, are two green shoots – to use India's new favourite expression – in this space. 
#4 More and more ODR innovation will come from inside industry and civil society organizations
In a recent conversation, a well-known finance professional and board member of a leading bank emphasized that the majority of dispute categories, particularly those with high volumes, were 'business matters' that needed a business solution as opposed to a legal solution. No doubt, there are legal intricacies and aspects to the solution but that doesn't mean it's not a business solution. All of this to say we will see a burst of solutions, either directly built into business workflows or seamlessly connected to them, to quickly resolve disputes. Many of the solutions will originate from within organizations since they know their customers, partners, vendors, etc., best and can gather the data needed to create the right solutions. The situations where they need third party neutrality is where they will partner with ODR providers.  
#5 Incentives will have to ensure first recourse to ODR
A point repeatedly made at the 6/6 meeting was that first recourse to mediation, a highly effective component of many types of ODR, might have to be mandated for some categories of disputes. The reason for this is that the current status quo, both in terms of the mindset of some litigants and lawyers, might prevent ODR from being taken seriously. Without an effective taste, they (a) won't know what they are missing, and (b) won't have a chance to change their minds. While I support mandatory ODR for some categories it must be done after assessing resolution capacity, ensuring standards, and identifying regions and sectors that can effectively avail of ODR and not be caught in no-mans-land i.e. you have to do ODR but don't have an effective provider. 
We will need leadership across startups, business, civil society, judiciary and government to take ODR to scale in India.
–
For those who wish to see my previous writings pertaining to this space, you can read the following –